What Causes Darker Skin in Intimate Areas?
The hyperpigmentation that occurs in these areas is an accumulation of dead skin cells that causes the skin to look and feel rough, and melanin (pigment) is deposited throughout the top layers (epidermis) of the skin. This causes the skin to look rough and darker. The skin in these areas can also darken due to other factors such as hormonal changes, friction, weight gain or simply aging.
What Is It?
The treatment was developed in Montreal, Canada more than 12 years ago by Milada, a skincare expert with over 25 year's experience in medical aesthetics. She developed this treatment that is free of hydroquinone, which is considered a carcinogen in Europe and Canada and is prohibited in their skincare products, and kojic acid which can be irritating to the skin. The treatment is not bleach but rather a product that has been specifically formulated and tested for use on even the most sensitive anal and genital areas.
Main ingredients :
licorice extract
Bearberry
Green tea
Citrus lemon
Aloe vera.
How Is Skin Lightening Performed?
The areas are prepped and cleansed. The exfoliating cream is applied that will instantly brighten the top layers of the skin and open the pores. An all natural green tea gel is then applied to the areas which quickly penetrate into the skin to help block the formation of excess melanin in new skin cells. Red and blue LED light therapies are used to help the lightening cream and gel to penetrate down into the deeper layers of the epidermis. The whole procedure is gentle and pain-free.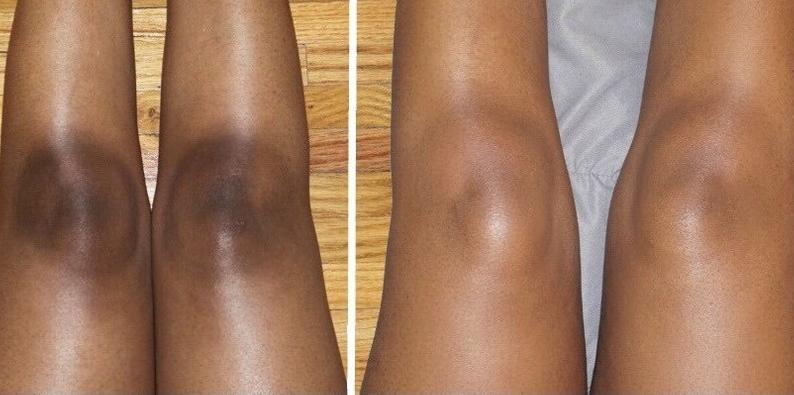 How Many Treatments Do I Need?
The number of treatments needed will depend on your skin tone, and how dark the hyperpigmentation is. One treatment gives an amazing INSTANT brightening of the top layers of the skin of at least 2-3 shades, but results vary for each patient.
What Happens after My Appointment?
You will be instructed to not to wash or sweat in the treated area for at least 6 hours. To expedite results, you will receive an at-home treatment gel to use daily until your next lightening treatment.