Most patients view my mobile medical services as convenient, personal and thorough. Most people tell me it's a wonderful idea and I haven't met anyone who's said anything negative about mobile dermatology. Doctor's visits tend to get a bad wrap and people are starting to understand why. At Mobile Skin Screening, we're committed to dramatically improving the current experience of patients in Phoenix, Arizona. In order to help you clearly understand our value, I wanted to discuss with you what to look for during a home skin analysis.
Convenient Skin Examinations Are Important.
Routine mobile skin exams are important because skin cancer can obviously form after you've been checked. Just because you were cleared a few years ago, it doesn't mean you haven't developed a concern in the meantime. When an individual gets a full body skin exam or skin cancer screening, it is done at a point in time which means that there is no guarantee a suspicious lesion won't appear right after a person has been examined. In fact, the majority of the patients I have diagnosed with melanoma, which is the deadliest type of skin cancer, noticed it between office visits.
We Teach You How to Self Inspect
Even if you're unable to schedule an appointment, monthly self skin exams help you get familiar with your skin so you can detect changes sooner rather than later. A monthly self skin exam is comparable to a monthly self breast or prostate exam. Just like you get to know your breast during monthly self breast exams, you get to know your skin during monthly self skin exams.
Setting the Bar and Ensuring Comfort
During your initial visit, we take the time to explain to you on what to look for and where to look for these self examinations. We're committed to educating the general public on the value of mobile skin screening in order to improve patient care and to catch symptoms or conditions before they progress.
I also get in touch with you beforehand in order to prepare you for your appointment so you have peace of mind. We're driven to provide the best patient care in a compassionate, honest and understanding manner. It's important that we're viewed as trustworthy and competent before visiting your home.
What's Different About a Home Skin Analysis?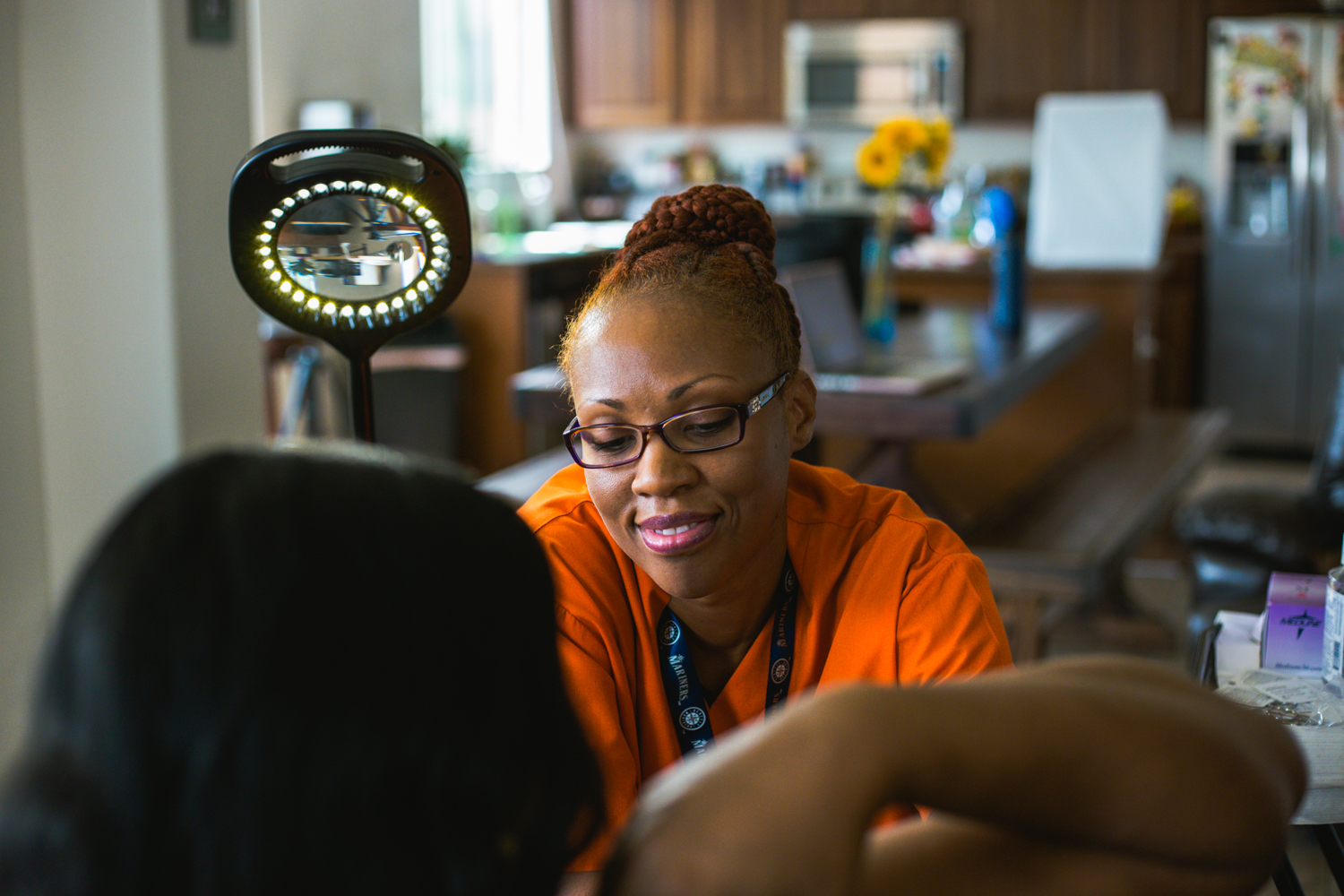 Billing and Insurance Coverage.
When comparing our process to a dermatology doctor's visit, the main difference is billing. A majority of people have a high deductible to meet before health insurance kicks in so patients don't know what they owe until insurance sends them a bill. With Mobile Skin Screening you know what your costs will be before any services or procedures are rendered.
The majority of medical offices use electronic health records (EHR). EHRs contain a patient's most sensitive information. Hacking of EHRs commonly occurs in medical offices which puts patients at risk for identity theft. Mobile Skin Screening doesn't use an EHR or keep any of your personal information such as DOB or social security numbers.
Dermatologist Wait Times.
Office waiting times are the main difference when it comes to our services. Patients are normally asked to arrive early to complete paperwork. Then you wait to be called back to an exam room by a medical assistant. Then you wait again for the provider to come into the exam room. With Mobile Skin Screening there are no wait times. The focus is on the patient the minute Mobile Skin Screening come to you. The process isn't shorter or more simplified, it's simply geared towards your availability without the rush and fees of the doctor's office. 
Patient Affordability and Convenience.
Affordability is the final benefit that differentiates our skin services. Full body exams are normally less than a specialty copay and discounts are offered with additional people. Procedures such as the treatment of precancerous lesions and warts are very affordable. The treatment of benign lesions are usually considered cosmetic by health insurances and the patient has paid a copay and received a bill from health insurance for the procedure. With Mobile Skin Screening, a patient knows upfront what the costs will be to do treatments that are considered cosmetic by health insurances.
Lab Results and Follow Ups
When it comes to test results, pathology reports are discussed with the patient over the phone. We can also go over the details with you in person. We prefer to keep this information as confidential as possible. Follow ups are usually scheduled at the end of the appointment and readily available at your convenience.